CLEANSE + PEEL
Uncover a new layer of skin with gentle exfoliation and relaxing resurfacing.
EXTRACT + HYDRATE
Remove debris from pores with painless suction. Nourish with intense moisturizers that quench skin.
FUSE + PROTECT
Saturate the skin's surface with antioxidants and peptides to maximize your glow.
HydraFacial uses a unique, patented Vortex-Fusion delivery system to exfoliate, extract and hydrate skin, and, the spiral design delivers painless extractions. The spiral design of HydroPeel® Tips, used in conjunction with the HydraFacial proprietary vacuum technology and serums, creates a vortex effect to easily dislodge and remove impurities while simultaneously delivering hydrating skin solutions.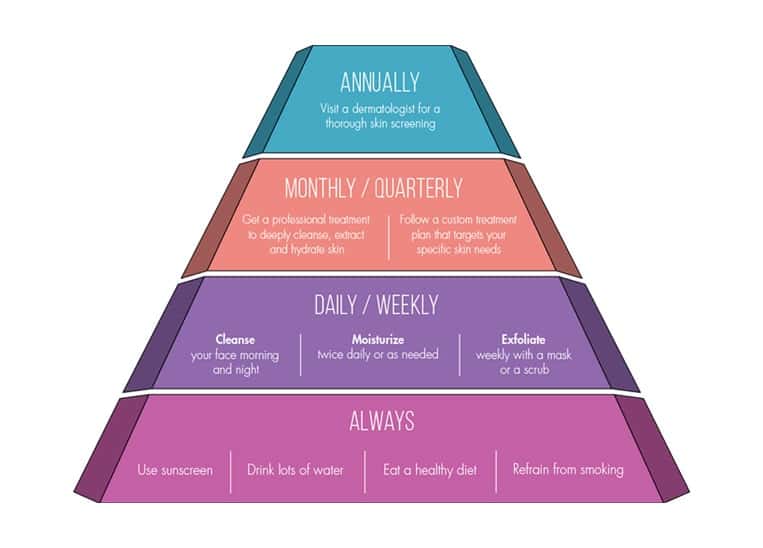 RETHINK YOUR SKIN HEALTH There are plenty of plans and programs out there, but they can be a little confusing. So, we reached out to nearly 1,000 experts and consumers to hear how they addressed skin health. We compiled the results and developed the first-ever skin health pyramid – an easy-to-follow guide to build your regimen and get better skin health. There are four simple layers: Annually
Monthly/Quarterly
Daily/Weekly
Always

Pensacola Physical Medicine offers The Signature Hydrafacial starting as low as $150 and The Deluxe Hydrafacial starting as low as $175. Each treatment is available as a part of our monthly membership service. Sign up (6 month minimum) today and get $25 off each facial. You will also be able to "gift" 2 facials to your family or friends. Must be used within a year of original purchase date.